Smearing a Hero: Sad Revisionism Over 'Hotel Rwanda'
Smearing a Hero: Sad Revisionism Over 'Hotel Rwanda'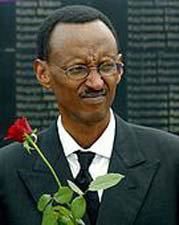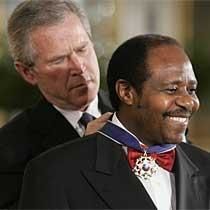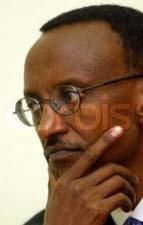 By Terry George
Wednesday, May 10, 2006; Page A25

Paul Rusesabagina, the real-life hero of the movie "Hotel Rwanda," is being denounced by some in his country as a traitor and a criminal. Perhaps he helped bring some of this abuse on himself, but none of it is deserved. As director and producer of the film, I'd like to explain.

To make a film of a true story you must compress timelines, create composite characters and dramatize emotions. When it came to making "Hotel Rwanda" -- the story of how Paul Rusesabagina saved the lives of hundreds of people who took shelter from the 1994 genocide in the hotel he managed -- I was obsessed with getting it right. The Rwandan episode was a slaughter of unimaginable horror and magnitude, yet I firmly believed I had found a story that showed that even in the midst of such horror the human capacity for good can triumph.

 
Before making the film, I grilled Rusesabagina and read all I could about his experience. I traveled to Brussels and Rwanda, and I met survivors from his hotel, some of whom still worked there. No one contradicted his story.

When the film was released, Rusesabagina was acknowledged as a hero not just by ordinary people across the United States and Europe but also by diplomats, politicians, journalists and Rwandan officials in diplomatic posts here. Rwandan expatriates gave testimony to the veracity of the film, as did people who had been in the hotel and who tearfully acknowledged Rusesabagina's role.

Last May I had the chance to meet Rwandan President Paul Kagame in Rwanda. I sat beside him as he and his wife and most of Rwanda's parliament watched the movie. Afterward he leaned over to me and said the film had done much good around the world in exposing the horrors of the genocide. The next evening, I screened the film at Amahoro Stadium for some 10,000 people. It was the most emotional screening I have ever been at. I spent close to an hour afterward accepting thanks and congratulations.

But there was one empty seat at both screenings -- the one reserved for Paul Rusesabagina. Two days before, as I waited for him to join me at the boarding gate in Brussels for the flight to Kigali, he called to say he had decided not to travel to Rwanda. On his speaking tours around the United States and Europe, he had begun to criticize Kagame's government, saying that the last election in Rwanda, in which Kagame received 90.5 percent of the vote, was not democratic and that true peace would come to Rwanda only when it had an inclusive government. Because of his criticism, Rusesabagina said, he had been advised that it would not be safe for him. I could not persuade him to come.

Last fall his fears were borne out when Rwandan journalists and politicians began a smear campaign against him. On Oct. 28 a reporter for the Rwandan daily newspaper the New Times ran a long story on the "true nature" of Rusesabagina, which quoted a former receptionist at the hotel as saying that he had saved only his few friends, and that he had charged people to stay in the rooms (a fact we had highlighted and explained in the film). Buried at the end of the piece was probably the true fear of the Rwandan authorities: that Rusesabagina planned to form a political party.

The newspaper attacks on Rusesabagina have steadily escalated. In November he received the Presidential Medal of Freedom from President Bush. Six days later a New Times editorial said he would "go down in the annals of history as a man who sold the soul of the Rwandan Genocide to amass medals."

In February Kagame joined the campaign -- cryptically at first. In a speech at Amahoro Stadium to mark National Heroes Day, Kagame said Rwanda's heroes are not made in America, Europe or in Asia; cinema or film stars have no place on the list of national heroes. He went on to make several veiled comments about "a manufactured hero."

A few days later Rwandan Radio ran a two-hour live talk show about Rusesabagina. The speakers included genocide survivors and, sadly, some old friends of Rusesabagina's. Francois Xavier Ngarambe, the president of Ibuka, the umbrella body of genocide survivors' associations, ended the show by claiming: "He has hijacked heroism. He is trading with the genocide. He should be charged."

I called Rusesabagina in Brussels to discuss what was going on. He said he saw the smear campaign as confirmation of his previous fears and of his reservations about the Kagame regime. His new autobiography, "An Ordinary Man," will only make things worse, as in his last chapter he writes, "Rwanda is today a nation governed by and for the benefit of a small group of elite Tutsis. . . . Those few Hutus who have been elevated to high-ranking posts are usually empty suits without any real authority of their own. They are known locally as Hutus de service or Hutus for hire."

On April 6, the 12th anniversary of the genocide, Kagame launched his first attack on Rusesabagina, saying, "He should try his talents elsewhere and not climb on the falsehood of being a hero, because it's totally false." I pray that this situation can be resolved. The millions who saw "Hotel Rwanda" and received its message of hope ought to know that they were not duped.

I understand Paul Rusesabagina's desire to foster inclusiveness in Rwanda. I understand, as well, Kagame's legitimate fear that the country has suffered too much, too recently, to allow divisions to be fostered. There are many politicians here and abroad who could mediate this clash. "Hotel Rwanda 2" is a sequel I never want to make.

Terry George was co-writer, director and producer of the film "Hotel Rwanda."

 
posted by Nikozitambirwa
--
Something's rotten in the kingdom of Gihanga.

"Les nations, disait Mao Zedong, pourrissent comme les poissons, par la tête".

C'est bien là le mal rwandais (ce mal d'Etat, ce pourrissement par la tête, si évident, si avancé).

Abatabizi bicwa no kutabimenya.

Nikozitambirwa.

© RWANDANET 2006
====================================================
"L'homme, à mon avis, se perfectionne par la confiance. Par la confiance
seulement. Jamais le contraire." (Mustafaj)
====================================================

Previous Posts